Site Search

* * * * * Wanted to
Buy
* * * * *
Antiques
For Sale
* * * * *
Antique
Tools:
Stanley Planes
& Tools

Patented &
Wooden Planes / Levels / Bevels
Squares / Rules
Chisels / Slicks
Saws & Drills
Farm & More
Antique
Sewing
Machines:
Singer 221-222
Featherweight
Sewing Machines
Featherweight
221-222
Information
Featherweight
Testimonials
Antique
Surveying
Instruments:
Solar / Mining
Transits
Compasses
Levels
Tripods
Chains

Americana
Technology
Scientific & Electrical
Antiques

Advertising
Patent Models
Salesman Samples
Country Store
Office / Electric
Calculation
* * * * *
General Info:
Ordering &
Guarantee
FAQ / Questions
About Our
Antique Business
Relevant Links
* * * * *
Contact
Patented-Antiques
* * * * *
Site Search
* * * * *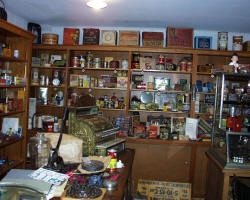 Genuine American Antiques are becoming increasingly difficult to find. A lot of "stuff" that appears at antiques shows, in "antique malls", and on the marketplace dates from much later than the pre-1900 era that genuine Antiques and Americana with historical significance originate from.

Much of the stuff that you find offered today is outright fakes---brand new and offered up with a wink and a nod, or the latest craze, assemblages, stuff made up from old things, and offered as something special, whether it is called Steampunk, repurposed, or whatever.It might be art, it might be popular, cute, or some even interesting, but it has little to do with authentic antiques or original Americana. I am at a loss for words to describe much of it.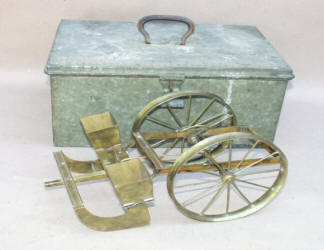 Antique American Patent Models have a colorful and interesting history. Patent Models represent one of the most graphic and rare forms of American ingenuity and inventiveness that is available on the antique market. The requirement that each invention would require a model of the invention was first mandated by the government in 1790. That requirement was essentially dropped in the late 1800's as the volume of models the government was taking in and storing became enormous.

Over the years there were two different fires in the government patent model storage locations and many of the earliest patent models were destroyed. These wonderful pieces of Americana were neglected and ignored for years with all of them nearly being sold off for scrap in the 20's at a government auction. They were saved from that fate through the wisdom and foresight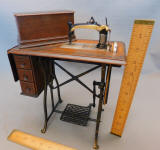 of a few devoted and visionary collectors.

Most patent models available today came from either O. Rundle Gilbert or Cliff Peterson, both of whom at one time owned and marketed patent models during their period of ownership. There are small stashes of, and collections of models all over the country that were formed when these owners were selling off portions of the original collection.

More recently there has been a large collection of parts and pieces of patent models with fake tags being offered for sale on eBay. At times the spiel / grift has been that the proceeds are going to some charitable fund or foundation to benefit the "kids", build a museum, bridge, or something similar. I expect to see offers for shares in the ownership of the bridge being built to that imaginary place, as in bridge to nowhere next.
No shame.
The Americana, General Store, & Country Kitchen antiques and collectibles found on this page cover a broad range both in vintage and uses. Over the years our interests broadened to include things like patented ice cream scoops, odd can openers, corkscrews, toasters, as well as vintage or antique meat slicers.

Our primary interest in Coffee Mills is in smaller double wheel #2 or #3 size cast iron double wheel coffee mills. These small double wheel coffee mills make for a very colorful and graphic display in almost any room or setting in the house. They are wonderful pieces and a great reminder of years past.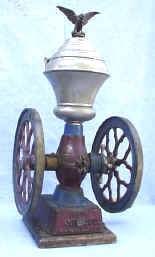 J. D. Adams Salesman Sample Road Grader
1858 James McVicker Patent Model Washing Machine based on a Wheelbarrow Design
1807 T. Beatty Patent Model Washing / Churning Machine (Earliest Known Patent Model)


N. R. Streeter "Sterling" Model #95 Slicer / Meat Slicing Machine
Royal Model 40 Meat Slicer
Vintage Whistler Swan Decoy Carved by Bob Gilmore
Antique Merganser Decoy
Antique Bufflehead Decoy
Antique Bluebill Decoy
Selection of Lamp Fillers
Treasure Hunters Dowsing Rod w/ Power Tube


# 1 Sure Death Trap by Davenport Trap Co.


Early Wood Shaft Golf Clubs
20 Antique Embossed "Napkin Plates"
3 Early Advertising Church Key Beer Bottle Openers
19th Century Gold Scale in Green & Orange Tin Case
The technology related antiques we deal in for the most part date from near the turn of the 20th century or earlier. That is 1900 or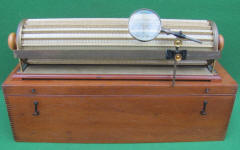 earlier. This includes office related devices & tools such as early patented antique pencil sharpeners, antique typewriters, early punch style check protectors, early calculation devices such as adders, calculators, slide rules, etc.

We also deal in many early electrical devices such as antique electric fans, telegraph keys, and other early technology related office collectibles.
If you have a single antique or an entire collection of office and technology related antiques for sale that you think we may be interested in, please Contact Patented-Antiques.com at patentedantiques@gmail.com and we will get back to you ASAP. Thanks!!
Early fans came in all sizes and shapes. Examples of antique fans I have sold in recent years can be found at our sister website
www.AntiqBuyer.com
in the past sales archives there. In addition to electrically powered AC, DC, or battery powered fans, there are hot air fans, water powered fans, and more. I deal in, and sell all of these different versions of antique and vintage fans & electric motors
Names like Edison, Westinghouse, Tesla and a few others come to mind when considering the introduction of electrical technology into our society. These inventors and others were the driving force that led America into a new age of power and their early efforts and designs are both important and an interesting facet of our history and a reminder of what it used to be like.
Thomas Edison's Edison System Ampere Meter
* * * * We Buy & Sell Antiques! * * * *
If you have a single antique, or a collection of antiques to sell please Contact Patented-Antiques.com at patentedantiques@gmail.com giving us your PHONE NUMBER and other contact info and we will get back to you ASAP.

To view examples of the types of antiques and collectibles we have previously sold and are always interested in helping you sell please visit our Past Sales Archive Pages at our sister website www.AntiqBuyer.com.
Thanks!!
Larry & Carole