Ordering
To order any antique listed for sale on this site simply email us at patentedantiques@gmail.com --- just tell us which item(s) you are interested in purchasing and the method of payment you want to use, check, PayPal, or Credit Card. We will email or call you back to confirm the availability of the item(s) and the shipping cost. Or give us a call at 530-748-7297 PST.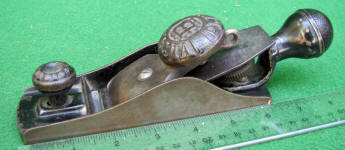 If you click an email link and a window comes up asking you to sign-up for Outlook, just send an email to
patentedantiques@gmail.com
the way you usually send emails. This happens when you use web hosted email services such as Hotmail or the like. It is not something to get nervous about. Our email address
patentedantiques@gmail.com
is in the top right hand corner of every page. Just drop that address into the email program you use.
All items are subject to prior sale. With notification we will hold any item pending the arrival of your check or money order for any antique you want to order. Layaways are cheerfully offered with a 30% down payment. California residents must add 8.5 % sales tax or provide a CA resale number. Shipping and insurance are additional, and are figured for both domestic and international sales at the best possible rate.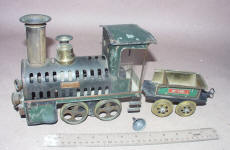 Our Guarantee
As both real world and Internet antique dealers and collectors we strive to offer for sale the very best antique merchandise possible in the very best condition, and at the best prices possible. Our reputation is important to us, and
our guarantee
is simple. If you are not happy with your purchase you get your money back---no hassles, no hoops, no problems. The rules are simple too-----if you are not happy, email or contact us ASAP, send us the same piece back in the same condition, and you will receive a full refund of your purchase price, less shipping.
To assure your satisfaction all of the vintage Singer Featherweight sewing machines we sell come with our complete 1-Year Money Back Guarantee. Who else offers you that!! Click here to read
testimonials from some of our satisfied Featherweight customers
.
Condition & Descriptions
In antique collecting we have continually witnessed the overriding importance of the role played by quality and condition in relation to the often misused concept of rarity in determining the value of antiques or vintage collectibles and their overall enjoyment in a collection. In other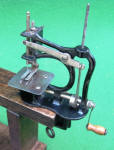 words, CONDITION, CONDITION, CONDITION is of the utmost importance. Therefore, our goal is to bring you only the best antiques in terms of quality and condition that are for sale, and to help you build a collection that you can be proud of. Accurate descriptions are essential to this process.
In describing our antique merchandise and assigning condition values to it, we attempt to adhere to
The Fine Tool Journal's Condition Chart
, copyrighted by Clarence Blanchard. (see bottom of page) We apply this rating system's spirit and basic criteria to all of our merchandise that we sell, not just tools. In other words, when we call something excellent, it really is excellent. Or when we say something was made by Lietz for example, you can be assured that it was in fact made by them, and not some knockoff, fake or otherwise misrepresented. Our photos are never meant to deceive, over-embellish, or hide flaws, and if you need more photos or better details on a particular item, just ask.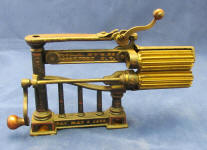 Selling Your Antique Items
We are always actively and enthusiastically seeking quality single antiques or quality collections of antiques to add to the Antique Sale Pages at this site. We have bought and sold numerous collections of antiques over the years, both large and small, and can provide numerous references upon request from satisfied consignors, clients, collectors. We also manage and consult on estate sales in Northern California, especially those that are made up of specific collections of antiques related to what we sell.
If you have a single antique or an entire collection of antiques for sale please Contact Patented-Antiques.com at
patentedantiques@gmail.com
and include your phone number and we will get back to you ASAP. Please see the FAQ / Questions page as well for more general info on this subject. Thanks!!
Antique Rental Service
Specialty and Antique Prop Rental for Movie and Television Production Studios

We offer a rental or special purchase program for the entertainment and movie industry to rent and /or buy select items form our stock of antiques and antique collections. Our inventory of antiques is diverse and unusual, and our rates are competitive. Antiques from our collections and inventory stock have been used as props and displayed prominently in several TV shows and movies as well as featured in numerous printed articles and stories about specific categories of antiques and collecting. Movie studios and TV production companies now have a place to turn to when rarer or more unusual pieces and not readily available hard-to-find specialty objects are required for special situations or upcoming events.

We have many unusual antiques available that are not typically offered by the usual rental venues that service the entertainment industry. The items available to rent range from historically significant examples of early and unique antique sewing machines and tools, to a selection of Patent Models and salesman samples, to varied scientific devices and surveying instruments that can be used to make a scene more authentic or truly realistic.

In addition to the items found in the different categories in the left hand column we have access to and also offer a locating service for other hard to find objects from a network of associates and dealers who also specialize in hard to find and rare antiques.

Inquire for rates and to reserve objects you need for your next project. patentedantiques@gmail.com



Search

Can't Find It? Due to the nature of the types of antique merchandise that we offer for sale many pieces could easily fall into more than one category or by a name other than you were looking for. If you can not find the specific item you are looking for under a particular category it very well could be listed on another page, or it may still be sitting on my shelf waiting for your inquiry. Please go to this page where there is a site-wide. Search Feature.



Looking for a Gift? Like what you see but just can't decide, or don't know what to buy that special person?

Order a Gift Certificate

And Finally........

Click on any of the links in the left column to see the current antique offerings that we have for sale.



* * * * We Buy & Sell Antiques! * * * *

If you have a single antique, or a collection of antiques to sell please Contact Patented-Antiques.com at patentedantiques@gmail.com giving us your PHONE NUMBER and other contact info and we will get back to you ASAP.

To view examples of the types of antiques and collectibles we have previously sold please visit our Past Sales Archive Pages at our sister website www.AntiqBuyer.com.

Thanks!!

Larry & Carole