Genuine Antiques are becoming increasingly difficult to find. A lot of "stuff" that appears at antiques shows and on the marketplace these days dates from much later than the pre-1900 era good Antiques and Americana with historical significance that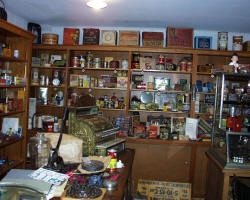 we like to acquire and to deal in.

Much of the stuff that you find offered today is outright fake - - - brand new merchandise offered up with a wink and a nod, or the latest craze, stuff made up from old things and offered as something special, whether it is called Steampunk, assemblages, repurposed, or whatever. Personally I am at a loss for words to describe most of it. It might be art, it might be popular, but it has little to do with authentic antiques or original Americana.
Original US Patent Models
* * * Click Headings below to see Items * * *
Antique American Patent Models have a colorful and interesting history. Patent Models represent one of the most graphic and rare forms of American ingenuity and inventiveness that is available on the antique market. The requirement that each invention would require a model of the invention was first mandated by the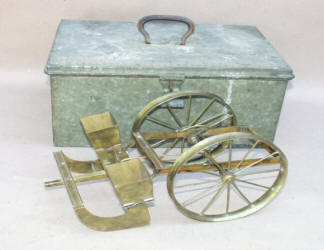 government in 1790. That requirement was essentially dropped in the late 1800's as the volume of models the government was storing became enormous.

Over the years there were two different fires in the government patent model storage locations and many of the earliest patent models were destroyed. These wonderful pieces of Americana were neglected and ignored for years with all of them nearly being sold off for scrap in the 20's at a government auction. They were saved from that fate through the wisdom and foresight of a few devoted and visionary collectors who bought them for their intrinsic value and beauty.

Most patent models available today came from the efforts of either O. Rundle Gilbert or Cliff Peterson, both of whom at one time owned, and marketed the remaining patent models during their period of ownership. There are small stashes of, and collections of models all over the country that were formed when these owners were selling off portions of the original collection to finance their dreams.

Currently there is a large collection of parts and pieces of patent models with fake tags being offered for sale on eBay with the spiel that the proceeds are going to some charitable fund or foundation to benefit the "kids", build a museum, bridge, or something similar. I expect to see offers for shares in the ownership of the bridge being built to that imaginary place, as in nowhere, as an added bonus when I read those ads.
* * * Click Heading to see Items * * *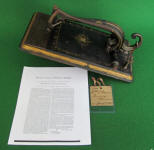 Jones Salesman Sample Sickle Bar Mowing Machine
J. D. Adams Salesman Sample Road Grader
1858 James McVicker Patent Model Washing Machine based on a Wheelbarrow Design
1807 T. Beatty Patent Model Washing / Churning Machine (Earliest Known Patent Model)
Adriance Platt Salesman Sample Sickle Bar Mowing Machine in Original Box
B. F. Horton's Patent Improved Salesman Sample Horse Rake & Seeding Machine
Pickett Classroom Teaching Aid Slide Rules 4'
Americana
Figural Antiques / Cast Iron / Advertising
Coffee Grinders / Toys / Country / General Store & Misc.
The Americana General Store & Country Kitchen antiques and collectibles found on this page cover a broad range both in vintage and uses. Over the years our focus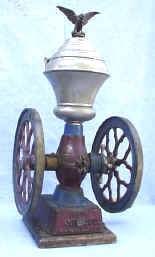 has broadened as the supply of the neat early stuff has all but disappeared from the market. In order to stay relevant our interests broadened to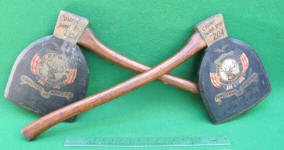 include things like patented ice cream scoops, odd can openers, corkscrews, as well as vintage or antique electric toasters.

Our primary interest in Coffee Mills is in double wheel #2 or #3 size cast iron double wheel coffee mills. These small double wheel coffee mills make for a very colorful and graphic display in almost any room or setting in the house. They are wonderful pieces and a great reminder of years past. They fit right in with the current craze concerning coffee drinking.

* * * Click Heading to see Items * * *
19th Century Antique Carpenters Wooden Tool Box
19th Century Antique Carpenters Work Bench
WWII Era Liberty Ship Hatch Cover Coffee Table
19th Century Asian / Oriental / Chinese Silk Pan Iron w/Figural Carved Bone Handle
Vintage Whistler Swan Decoy Carved by Bob Gilmore
Antique Merganser Decoy
Antique Bufflehead Decoy
Antique Bluebill Decoy
Collection of Antique "Nut-People" Carvings / Outsider Art
Cast Iron Trivet Tree / Stove Pipe Trivet / Stove Shelf / Mitten Warmer
So - Ezy Mouse Trap by Wolverton Mfg. Co. of Holton Kansas 
Keuffel & Esser Point of Sale Advertising Display
"Sub Grade Rod" #218" by L. A. Batham Oakland Cal.
Selection of Lamp Fillers
Patented 1898 Salesman Sample Door Hinge
1920's Henley Roll About Scooter / Skate Board / Childs Wagon
Treasure Hunters Dowsing Rod w/ Power Tube
Early Wood Shaft Golf Clubs
* * * Click Heading to see Items * * *
Set of 4 Vintage HB Quimper Dinner Plates
6 Antique c.1891 Bishop & Stonier Florence Flow Blue Dinner Plates
Vintage Nancee Meeker / Jane Hollenberg Pottery with Dragon Motif
Vintage Nancee Meeker / Jane Hollenberg Pottery with Old Man and the Sea Motif
20 Antique Embossed "Napkin Plates"
1/6 Plate Daguerreotype of Lady in Gold Jewelry
1/6 Plate Daguerreotype of Bearded Gent
1/6 Plate Daguerreotype of Bearded Wolfman
1/6 Plate Daguerreotype of Girl & Woman
1/6 Plate Daguerreotype of America Woman
1/6 Plate Daguerreotype of Woman Holding Dag
1/6 Plate Daguerreotype of Jennifer Taft in 1847
1/6 Plate Daguerreotype of Stately Woman
1/4 Plate Daguerreotype of The Freckles Family
1/4 Plate Daguerreotype The Face
1/6 Plate Daguerreotype of Girl w/ Book or Dag in Extra Thick MOP Decorated Case
1/6 Plate Daguerreotype of "Framed Face"
1/6 Plate Daguerreotype of The Troupe or Gathering
Tintype of Poker / Card Playing Women
Tintype Reflections in a Mirrored Room
Tintype Women in Dark Glasses
Man with Fiddle Tintype
Guitar Player Tintype
Satirical Tintype of Top Hatted Politician, or ?
Salesman w/ Sample or Wares Tintype
Occupational Fly Fishing? Tintype
1/6 Plate Tintype of 4 Siblings
1/6 Plate Tintype of Nice Family
Unusual Ambrotype of Painting of Grandma
1/6 Plate Ambrotype Grandma in a Wheelchair
W. F. Cody - Buffalo Bill Cody Cabinet Card by Stacy
George Karlavagn Tattoo Man Circus Cabinet Card
Prouty Brattleboro VT Advertising Cabinet Card
Storer College African American Quartet Cabinet Card
Greeley Artic Expedition Survivors Cabinet Card
E. & H. T. Anthony War Views #2060  "Soldiers and Part of a Battery on the Battlefield of Bull Run."
E. & H. T. Anthony War Views #2384  "Position of the Centre of the Army of Gettysburg" 
# 768 Monitors Charlestown Navy Yard by Kilburn Brothers
# 2963 The Old Capitol Prison E. & H. T. Anthony
# 359 Ruins of North Eastern Depot Blown up During Evacuation of Charleston (about 300 lives lost)
# 1268  . . . . . .First Shot into Charleston S.C.
# 316 Rebel Shot Lodged in Union Gun at the Battle of Gettysburg Kilburn Brothers
# 736 From the Battlefield Observatory - Soldiers Nat. Cemetery
# 3138 E. & H. T. Anthony The War for the Union
E. & H. T. Anthony # 3223 Interior View of the Rebel Works
E. & H. T. Anthony # 2507 Wounded at Fredericksburg Va.
E. & H. T. Anthony # 3198 Rebel Prisoners Captured by General Sherman
E. & H. T. Anthony # 3347 View of Rebel Fort Darling Richmond Va.
E. & H. T. Anthony # 2565 View of Rebel Fort Burnham / Fort Harrison
E. & H. T. Anthony # 3187 Trenches of Rebel Fort Mahone
E. & H. T. Anthony # 3182 Southern Soldiers Killed in the Trenches of Rebel Fort Mahone
E. & H. T. Anthony # 3190 A Dead Southern Soldier as he lay in the Trenches of Rebel Fort Mahone
General Lee's Residence Richmond Va.  by Anderson
"Old Abe" the Live Wisconsin War Eagle
Young Chippewa Brave  by Zimmerman
8014 Dismantled Towers & Turrets Broken
# 200 The Pueblos of Taos  by Gurnsey. Taos, NM
# 202 Pueblo Indian Cart Plow & Oven  by Gurnsey
# 2706 "Estufa in Taos" / Los Pueblos De Taos  by W. H. Jackson
324 Shoshone Indians   by Watkins - Pacific Railroad
Alexandria Minn.   Chippewa Indians by N. J. Trenham

Street View in Corinne Utah By Wm. H. Jackson Omaha Neb.
Crow Indian Warriors  American Series
# 129 Ute Indian Chiefs - Warency, Chavano, Ancatosh, Ouray, Guerro  by Thurlow
Apache Scouts - Arizona Series by Buehman & Co. Tucson AZ
Indians of the Colorado Valley Wu-Nav-Ai Gathering Seeds #53 by Hillers
Indians of the Colorado Valley # 14 Group of Women in Full Dress  by Hillers
#20 One Little Two Little Three Little Injuns - Indians of the Colorado Valley - by Hillers
* * * * We Buy & Sell Antiques! * * * *
We want to Help you Sell Your quality Antiques
If you have a single antique, or a collection of antiques to sell please Contact Patented-Antiques.com at patentedantiques@gmail.com giving us your PHONE NUMBER and other contact info and we will get back to you ASAP.

To view examples of the types of antiques and collectibles we have previously sold and are always interested in helping you sell please visit our Past Sales Archive Pages at our sister website www.AntiqBuyer.com.

Please see our FAQ page, the Appraisal / Selling Page and the Selling Your Collection Pages for further info.
Thanks!!
Larry & Carole