Site Search

* * * * * Wanted to
Buy
* * * * *
Antiques
For Sale
* * * * *
Antique
Tools:
Stanley Planes
& Tools

Patented &
Wooden Planes / Levels / Bevels
Squares / Rules
Chisels / Slicks
Saws & Drills
Farm & More
Antique
Sewing
Machines:
Singer 221-222
Featherweight
Sewing Machines
Featherweight
221-222
Information
Featherweight
Testimonials
Antique
Surveying
Instruments:
Solar / Mining
Transits
Compasses
Levels
Tripods
Chains

Americana
Technology
Scientific & Electrical
Antiques

Advertising
Patent Models
Salesman Samples
Country Store
Office / Electric
Calculation
* * * * *
General Info:
Ordering &
Guarantee
FAQ / Questions
About Our
Antique Business
Relevant Links
* * * * *
Contact
Patented-Antiques
* * * * *
Site Search
* * * * *
Mechanical Nature Antiques
Hello!!
We are Larry & Carole Meeker
Dealers, Brokers & Purveyors of Fine Antiques & Collectibles!!
The primary focus of our two websites,
Patented-Antiques.com
and
AntiqBuyer.com
, is Buying & Selling Antiques & Collectibles of a Mechanical Nature. Patented & Mechanical Antiques & Collectibles. We buy & sell Antique Tools / Technology & Scientific related Antiques, Antique Sewing Machines, Antique Advertising, General / Country Store Antiques, etc. We call these different categories of Antiques Americana with a purpose.
The antiques and collectibles we buy and sell include antique and vintage woodworking tools,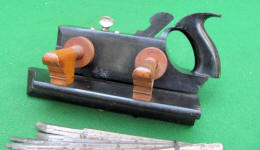 especially patented antique woodworking planes, antique sewing machines, antique surveying instruments. American patent models, vintage salesman samples, especially farm and agricultural related models, are of special interest. Other pieces of early American history commonly referred to as Americana are also of interest.

The antiques and collectibles we seek include figural cast iron antiques, rare examples of vintage mechanical kitchen antiques, early office related antiques, including antique electrical devices like fans and open frame or Bi-polar electric motors, scientific and calculation related antiques and more. All fit into our definition of Antiques of a Mechanical Nature.
Services We Offer
Outright Purchase and Sales We buy antiques all the time. The most important considerations that influence our decision to buy a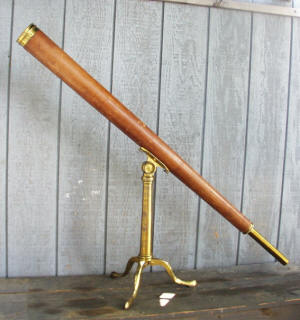 given antique are price & condition. These are the main factors, and most important considerations in determining our interest in buying any antique. Without knowing the specifics it is very hard to say whether or not we are interested in buying your antique or collection.

Outright purchases are the quickest and cleanest approach to buying and selling antiques. The seller names the price he / she wants for that antique or collection and I say yes or no. Many sellers want "retail" or retail + + for their antiques, be it a collection or single antique ignoring the fact they have contacted an antique dealer who has to buy below retail and have some room for resale.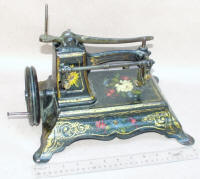 Oftentimes sellers profess they have no idea what the value of their antique (s) or how much they want for their antique or collection. Antique sellers using this approach to selling set up the classic adversarial dealer / seller situation.

In general I do not usually participate in prolonged back and forth when buying antiques. In most outright sales situations it is the sellers responsibility to name his price after doing due diligence or research. For several reasons, it is hard for me to act as both the buyer and seller, naming the price and then buying the object. Especially on those i am not standing in front of.

If you have antiques to sell and have them priced reasonably and realistically contact Patented-Antiques.com and we can sew up the deal with me buying them - now!
Appraisals, Research and Consultations We no longer offer paid appraisals for pieces for several reasons. Informal appraisals and discussions about value are offered as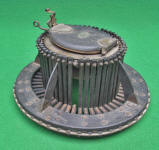 part of our consignment sales service - - - - - - within reason.

Finders Service for Antique Buyers We offer this as a service for those who are looking for specific antiques to add to their collections. We offer a paid finders service for serious collectors looking for serious pieces and treat a paid retainer as a contract to find and provide the piece for a reasonable commission. We have good contacts for the types of antiques that we deal in. We will work for a fixed finders fee as well.
Consignment Sales
are a source for some of the antiques listed for sale on this antique sales website www.Patented-Antiques.com. We sell select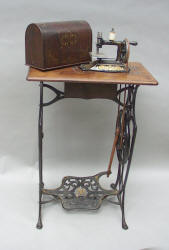 individual antiques on consignment for various owners. We are currently selling antiques on consignment from consignors including old time collectors, dealers, or other antique sellers such as heirs, or relatives of the antique collector. Some collectors are simply downsizing, others re-focusing their antique collection, or are selling their antiques for any number of different reasons. Oftentimes we are helping new owners, collector's spouses, heirs, and / or relatives of the original collectors sell an antique collections that they have come into possession of.

Consignment sales through our website can offer advantages for the seller / owner. The largest and most obvious advantage is that through consignment sales, at a fixed price and reasonable commission rate, you the owner are able to net the highest possible price and return for your antiques. Your asking price. With consignment sales you name the final sale price and are not at the mercy of an auction result. By paying a single commission, and only upon a successful sale, the uncertainly of auctions and the double fees incurred with a buyers premium on the front end in addition to the sellers commission on the back end are gone.

If you are unfamiliar with this concept, I can explain. Bottom line, when you see an auction result for an item you have, the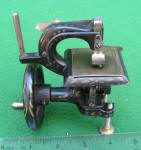 actual net to you the owner / seller can oftentimes be 40 - 50% less than that published price when the final math is done. That being the buyers fee, "penalty" or % on one end, (15 - 25%) and the sellers commission / % on the other. (20 - 30%)
Antiques listed for sale on this site get worldwide exposure. Our websites are well ranked on Google and all other major search engines for relevant keywords. Our 2 websites get over 500 unique visitors a day with thousands of individual page views. Over 50% of those visitors are "new". The other half are regular customers looking for newly listed pieces. Many are serious buyers who visit this antique website on a regular basis seeking specific antiques to add to their collections. It is not just a small local audience, or casual lookers that most other venues like local "antique" shops or auction houses offer. They are real buyers looking for quality antiques to add to their collections.
Another advantage is that this approach eliminates the typical adversarial role between the owner / seller when determining values or a price for your antiques / collectibles. That would be you and me, the end seller, as we are both working toward realizing maximum price / value for your antiques when I sell pieces on consignment for you. Bottom line is in a consignment sale I want to help you sell your antiques for the most possible. I am not trying to buy them for the lowest possible price. I am working w/ you to realize the highest possible price, not against you trying to buy them for the least amount possible.
Current & Past Clients
One antique collection we are currently handling is focused on antique woodworking tools. This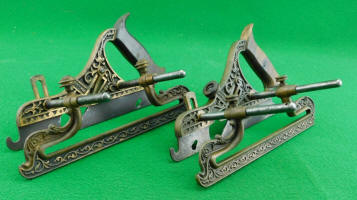 collection was begun in the 60's and numbers over 15,000 tools. This collection originates here in California and will take years to redistribute to today's collectors. We are nearly done with it now in 2023.

Another antique collection we are about done selling came from Washington State and is laundry-related. It included close to 3000 antique pressing / sad irons and trivets, miniature stoves, and much more. Over the last 15 years we have helped numerous consignors, and sellers sell well over 9,000 sad irons from several different collections.

An antique collection from Oregon was focused on antique Irons, & other Ironing related antiques. Set up in a general store type museum with advertising and related Country or General Store Antiques including General Store Fixtures, Cash Registers, scales, hardware and more.

Another antique collection we are done selling for a deceased collectors spouse included over 300 toy and full size sewing machines. This collection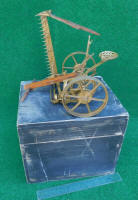 had some great toy treadle sewing machines as well as some of the hardest to find toy sewing machines / TSMs known.

We sold a large collection of antique Bootjacks for an owner / collector downsizing, and refocusing his collection. This collection of over 300 antique Bootjacks included examples across the spectrum, from Patent Models to mechanicals, Naughty Nellies, figurals, heart motifs and more. Most were cast iron, some wood, and a couple made of other materials. While selling that collection, we picked up and sold another large collection of bootjacks similar in size, so that at one point we had over 400 antique bootjacks in stock.

We have also handled select pieces from other antique collections across the country including special antique sewing machines and sewing related antiques including sewing birds / clamps and other sewing related collectibles.

We are finished selling a collection of over 100 toy and salesman sample stoves from a large and old time midwest collection. We also handled their large collection of sadirons and related.
* * * * We Buy & Sell Antiques! * * * *
If you have a single antique, or a collection of antiques to sell please Contact Patented-Antiques.com at patentedantiques@gmail.com giving us your PHONE NUMBER and other contact info and we will get back to you ASAP.

To view examples of the types of antiques and collectibles we have previously sold and are always interested in helping you sell please visit our Past Sales Archive Pages at our sister website www.AntiqBuyer.com.
Thanks!!
Larry & Carole