The technology related antiques we deal in for the most part date from near the turn of the 20th century or earlier. That is 1900 or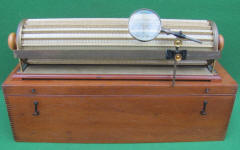 earlier. This includes office related devices & tools such as early patented antique pencil sharpeners, antique typewriters, early punch style check protectors, early calculation devices such as adders, calculators, slide rules, etc. We also deal in many early electrical devices such as antique electric fans, telegraph keys, and other early technology related office collectibles.

Thing is, today everyone wants to sell their 1950's - 1980's era obsolete office stuff for big bucks because of the stories they have heard, or TV shows they have seen. They saw the $600,000.00 result for an Apple 1 computer and think that makes their 1950 Burroughs adding machine worth at least 1/2 as much. The logic goes if some 1890's typewriter sells for 10K their "old" and "antique" 1950's typewriter or adding machine must be valuable as well. Actual rarity, demand, desirability, or condition are not
factored in, and hardly considered. While that logic might hold true for some first generation computers and electronic calculators, for the most part office equipment from the 20's through the 60's is not in demand, desirable, or worth much at all.

The supply of good early (pre 1900) office and scientific related antiques has now for all intent and purposes disappeared from the market or scene and the supply has about dried up. It is that era stuff that I am looking for today. I will buy it outright, or can help you sell it.
If you have a single antique or an entire collection of office and technology related antiques for sale that you think we may be interested in, please Contact Patented-Antiques.comat patentedantiques@gmail.comand we will get back to you ASAP. Thanks!!
Early Electric Fans / Motors
Appliances / Etc.
Antique electric fans offer a glimpse into the quality and pride that went into the manufacture of products in this country during an earlier period of America's history. I still use a an early GE Pancake fan and a Westinghouse "Tank" fan, as well
as an early electric Emerson fan around the house. The way they work and look is a tribute to an earlier time. A sense of pride was built into American made products and these 75-100 year old fans are a great example of the way things use to be. It is no wonder these early testaments to quality and design stir collecting interest, or that they elicit positive comments from all who see them. Their operation and their their look have an air of quality about them not seen in today's products.

Early fans came in all sizes and shapes. Some examples of antique fans I have sold in recent years can be found on this fan sales archive page at our sister website www.AntiqBuyer.com. In addition to electrically powered AC, DC, or battery powered fans, there are hot air fans, water powered fans and more.. I deal in, and sell all of these different early versions of vintage fans.

Most small or toy vintage electric motors resemble early larger antique steam and
electric motors from the same time period or era and are open framed and or bi-polar in design. Many of the electric motors that came with erector sets or with toy steam engines like Weeden and Bing are similar looking but there are earlier and more elaborate models that were used as demonstrators in classes or labs as well. Others were sold in Novelty catalogs as working motors for small jobs. In addition to electric motors there are also hot air models known as "flame lickers", and the steam driven motors / generators meant to be set up with boilers by such makers as Bing, Jensen, Plank and others.

Names like Edison, Westinghouse, Tesla and a few others come to mind when considering the introduction of electrical technology into our society. These inventors and others were the driving force that led America into a new age of power and their early efforts and designs are both important and an interesting facet of our history and a reminder of what it used to be like.
* * * Click Heading to see Items * * *
Western Electric 16" Bi-Polar Electric Desk Fan

SOLD!!

Carlisle & Finch No 27 10 Volt Electric Bipolar Dynamo
Franklin / Edison Bipolar Mini Toy Electric Motor / Dynamo
Thomas Edison Mary-Ann Dynamo / Electric Motor Model
Voltamp Electric Motor

SOLD!!

K & D - Kendrick & Davis # 14 Electric Motor
Dayton Electrical Mfg. Co. Apple Igniter
B. F. Sturtevant Co. 1/8 Horsepower Electric Motor

SOLD!!

Sprague Electric Co.  Lundell Motor
* * * Click Heading to see Items * * *
General Electric Type C-9 Explosion Proof Clock
Thomas Edison Reproduction Light Bulbs
Zeitsinnapparat Scientific Psychological Recording Device by Spindler & Hoyer, Göttingen
Southern California Edison Sign
Thomas A. Edison Sign / Banner
* * * Click Page Titles Below to see Items * * *
Last Model K & E / Keuffel & Esser 4012 Thacher Slide Rule in Oak Box
Millionaire Calculator - Calculating Machine
The Equationor or Universal Calculator - Patented & Copyrighted by Walter Hart
K & E 7' Classroom Teaching Aid Slide Rule
Pickett N1010-ES Trig 4' Classroom Teaching Aid Slide Rule
* * * * We Buy & Sell Antiques! * * * *
We want to Help you Sell Your quality Antiques
If you have a single antique, or a collection of antiques to sell please Contact Patented-Antiques.comat patentedantiques@gmail.com giving us your PHONE NUMBER and other contact info and we will get back to you ASAP.

To view examples of the types of antiques and collectibles we have previously sold and are always interested in helping you sell please visit our Past Sales Archive Pages at our sister website www.AntiqBuyer.com.

Please see our FAQ page, the Appraisal / Selling Page and the Selling Your Collection Pages for further info.
Thanks!!
Larry & Carole