The Stanley Rule and Level company was formed in the late 1850's and began their business producing a line of folding rules and
general hardware in New Britain Conn.. Levels came next, and a few years later they got into the woodworking plane making business producing a line of metal bodied planes utilizing Leonard Baileys Patents and designs for metal bodied bench planes and scrapers.

The Stanley Rule and Level Company spent a lot of time and effort developing a market and filling the need or demand of early craftspeople wanting top quality tools. Stanley woodworking planes were designed for use in a wide range of applications in many different trades as well as those typically associated with woodworking or cabinetry. They produced specialty planes aimed at cabinet makers, patternmakers, butchers, electricians, and more to fill this need.

Stanley Rule & Level Co. and the tools they made had a great reputation way back when. The Stanley name imprinted on a tool was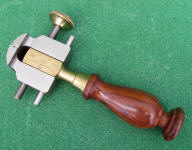 synonymous with quality and high standards for close to 100 years and they dominated the market with their line of fine woodworking planes and other carpentry related tools. These vintage & antique woodworking as well as their other vintage tools are a favorite with both users and collectors today.

I try to offer vintage tools by Stanley and other vintage makers in nice condition, and if there are major detractions I will let you know or the pics will tell the story. Vintage tools by other makers or even those made by Stanley and marketed by other firms will be found both on this page and on other pages on this site. If you are looking for something specific use the search feature found on the right, or ask as I may have it or can point you toward it.
* * * Click Heading to see Items * * *
* * * Click Heading to see Items * * *
There is an incredible array of vintage and antique squares and bevels and different forms of marking gauges that have been patented and produced over the years. They were designed for use by many different tradesmen including
woodworkers carpenters machinists and more. Many of them have now become highly collectible while others are in demand by users and trades people of today because of the high quality, degree of usability or functionality they provide, and the beauty these old collectible tools exhibit.

There is something about using a vintage American made tool to accomplish a task in today's world that tools with China stickers on them just do not fulfill. Some of those listed below are quite unusual and hard to find and suitable for the vintage tool collection, while others will be a welcome addition to the workbench for the user / woodworker who appreciates the quality in a fine vintage old tool made in the USA when we use to actually produce things.
M. A. D. Patent Pending Combination Bevel Square
Brown & Sharpe / Ames Patent 6" Center Square
Hawthorns Patented 1917 Square, Level, and Plumb
Selection of Different Model Stanley Squares
Stanley #18 Steel Body Bevels
Starrett No. 163 30" Drafting Square
Stanley 85 1/2 Rosewood Panel Gauge
Wm. Koenig / Troy NY 3 Bar Depth Gauge / Gage
Stearns # 85 Marking Gauge / Butt Gage
Stanley # 93 Butt Gage / Marking Gauge
Millers Falls No. 363 12" Combination Square
Nelson & Hubbard Middletown CT. Rosewood Bevel w/ Ruler Handle
1st Model Stanley #31 Angle Divider w/ Rosewood Handle
Adjustable Gauge Co., Lexington, KY. Angle Divider / 2 Arm Bevel
Smiths 1900 Patent Automatic Framing Square
Stanley #25 Rosewood Handle Bevels
Disston Rosewood Handle Bevel
4 Stanley # 25 Rosewood Handle Squares 4 - 6 - 8 - 8 - 10

SOLD!!

Calhoon Patent Square / Bevel / Roofers Tool

Patented Oct 2 1888 P. L. Fox Square / Bevel/ Angle Tool

Brown & Sharpe 555 Adjustable Square
Brown & Sharpe Combination Square
Unusual Feature Marking & Mortise Gauge / Pat Pend

RARE St. Johnsbury Double Blade Bevel W/ Diamond Pattern Brass Body

St. Johnsbury Rosewood Infill Bevel

St. Johnsbury Brass w/ Rosewood Infill Bevel w/ 15" Blade

Keen Kutter / Simmons Hardware 12" Carpenters Square
Groves & Sons Sheffield 16" Carpenters Square
Tidgewell / Middletown CT 18" Carpenters Square
*** * * Click Heading to see Items * * *
Beaders and routers are used for shaping edges and are often easier to use than setting up the router or other electric tool. Routers can be used to from or clean rabbits and dados with little fuss or muss. Some are craftsman made, other later versions were manufactured by the big names in the business. Some like the Windsor Beader were patented and came out in several versions
over the years. There are hundreds of different designs and styles of spoke shaves available. Stanley offered the largest number of and most job specific models.
3 Beech Spoke Shaves
2 Beech Spoke Shaves
More Beech Spoke Shaves
Stanley # 61 Marking Gauge
Stanley # 65 Marking Gauge
Stanley # 73 Mortise Gauge
Stanley # 55 Concave / Hollow Spoke Shaves
Stanley # 60 Convex / Concave Double Spoke Shave
Stanley # 64 Spoke Shave
3 Stanley # 51 Spoke Shaves
Stanley # 65 Chamfer Spoke Shave
Stanley 151 Spoke Shave
Stanley # 66 Hand Beader / Shave / Japanned
Stanley # 66 Hand Beader / Shave w/ Guides Nickeled
Stanley 85 Boxwood Spoke Shave
Preston Quirk Router / Spoke Shave
2 C. S. Osborne Rosewood Spoke Shaves
Bailey Patent Box Scraper
BOOK Patented & Manufactured Spoke Shaves & Similar Tools by Tom Lamond
* * * Click Heading to see Items * * *

* * * Click Heading to see Items * * *

12 Issues of John Walters Stanley Tool Collector News
Several Pairs of Stanley Trammel Points
Phelps Trammel Points
More Trammel Points
Stanley # 96 Blind Nail Chisel Gauge
Stanley # 77 Dowel Making Machine
Stanley # 42 W Saw Set
Stanley # 138 Level Sights
Stanley # 386 Jointer Plane Fence
Stanley 1" # 40 Chisel W/ Black Plastic Handle
# 59 Doweling Jig
# 60 Stanley 2" Butt Chisel
Stanley #138 Level Sights
Stanley 1/4" # 40 EverLasting Chisel
Stanley 1/2" # 20 EverLast Chisel
Small Red Stanley Clamp-on Bench Vise
Vintage Stanley Rosewood Front Knobs
Various Cutters for Stanley Planes
Misc. Stanley Plane Parts & Cutters
* * * Click Heading to see Items * * *
* * * Click Heading to see Items * * *
Bridge City Tool AS-5 Adjustable 5" Square
Bridge City Tool Works AS-9 Adjustable Try Square
Bridge City Tool CT-2 SqueveLevel
Bridge City Tool PB-9 Plumb Bob Set
Bridge City Tool AS-14 Adjustable Try Square
* * * Click Heading to see Items * * *
Hagen Patent Gun Stock Makers Tools / Broach
12 Sand Casting / Patternmakers Foundry Tools / Lifters / Smoothers / etc
12 More Sand Casting / Patternmakers Foundry Tools / Lifters / Smoothers / etc
DEM-MART Gun Stock Makers Checkering Tools
Warner Products Co Gun Stock Makers Checkering Tools
Cobbler's Revolving Nail Cup
John Hood / Boston Farriers Horseshoe Gauge / Tool
Heller Cast Iron Cutout Handle Horseshoer's / Farriers Hoof Knife
AND MORE
* * * Click Heading to see Items * * *
Prince Patented 1909 Combination Wrench Brace
Atomic Saddle Horn Fencing Tool by Glaskin Mfg. Co.
Richards Mfg. Co. "Wizard" Ratcheting Wrench
Duplex Folding Head Crescent Wrench
"The Anderson" Folding Head Crescent Wrench
Patented May 1 1883 Combo Tool
Tomahawk Junior by Bridgeport Hardware Corp
Diamalloy Fence Tool
Standard Sliding Wedge Jaw Quick Adjust Nut Wrench
Winchester # 1514 Double Open End Wrench
Starrett # 258 Plier / Wrench
Starrett Wire Nippers
2 Baxter Patent Double End Wrenches
Eifel Geared Plierench Tool w/ 5 Jaws & Pouch
Rolls Royce Ltd. 3/16 - 1/4 Open End Spanner Wrench
Quick Adjust "Lever Wrench" Pat Appl'd For
Lowe's Patent 4" Adjustable Wrench
Small 4 Inch Bicycle Wrench
Bemis & Call 1866 Patent Pipe Wrench
And MORE!!
Thanks!!
Larry & Carole