Antique & Vintage edge tools, including carving tools, woodworking chisels, gouges, carpenters slicks, vintage lathe tools and more will be found on this page. The vintage and antique edge tools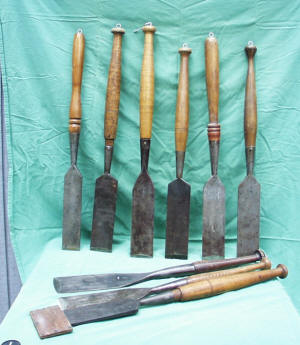 found below will be suitable for use in various woodworking hobbies and trades or inclusion in any antique tool collection.

Antique woodworking edge tools from makers such as Addis, D. R. Barton, James Swan, Herring, Henry Taylor, Buck Brothers, L. & .I.. J. White, Wilkinson, Witherby, Maier, Marples, and others will be found under the proper headings / links below. Stanley Chisels including their famous line of Everlasting or Everlast chisels and the Stanley #720 & 750 model chisels will be found on the Misc Stanley Tool Page.

These famous edge tool maker names ring with nostalgia and fond memories of the old days when quality was the standard and American pride of manufacture carried over into the things made here in the USA.

Vintage and antique tools are popular not only because of the superior quality, but often times these antique edge tools can be had in fine condition for a fraction of what is being charged for quality tools made today. There is no comparison in relation to price vs. quality when speaking about the garbage coming here from China sold in every retail establishment no matter the name you see on it.

With a bit of knowledge and judicious shopping you can outfit a toolbox or shop workbench with a array of quality antique & vintage woodworking tools at a reasonable price and get full value for your dollar.
* * * Click Heading to see Items * * *
Slicks are basically large chisels and oftentimes large framing chisels are mis-identified as slicks. In general they can range in width from 2" up 6" or so with those large examples being very hard to find. Most are socket style, but there are also tang slicks that can be found. Occasionally a gouge style slick turns up, and even less often crank neck ones appear. Names like Wilkinson, Barton, L. & I. J. White, Witherby, James Swan and more come to mind as the premier makers of the 19th century.
* * * Click Heading to see Items * * *
* * * Click Heading to see Items * * *
* * * Click Heading to see Items * * *
Drilling holes has been a task since the dawn of time. Braces and drills have evolved over time and each have many different styles and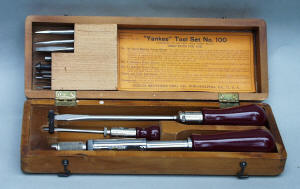 designs to choose from. There is a book on American Patented Braces by Ron Pearson and finding some of the harder ones can be a challenge. They make for a great display once one begins to appreciate the differences and thought that went into the different designs. Others make for great users.
I have seen a few collections of Beam boring machines and they can be very impressive. It seems there are a few common versions around that were mass produced, and then a very few models that were patented and made in very limited supply. Some with just a few known. The Millers Falls model is the most popular with today's timber framers and users, although outfits like James Swan and a few others made a nice usable product.
Antique & Collectible
Hand Saws
The old adage about they do not make them like they used to holds especially true for antique & vintage hand saws, edge tools, and antique drills and augers. The art of saw making and metallurgy were at the height of their quality back in the mid to late 1800's and into the early 1900's. These vintage tools make for great collectibles and / or useable vintage tools.

Saw makers like Henry Disston, Atkins and others were putting forth a product that can not be equaled. Today you can expect plastic, and Taiwan or China labels unless paying a premium for custom tools coming from small cottage businesses or makers. These vintage saws and edge tools are a testament to the quality and sense of pride that the phrase "Made in America" use to carry and can be a bargain to boot.

And they work! and are still here 100 or so years later.
The saws listed should be considered straight. None are kinked or bent so as to be unusable or in need of straightening. Some are sharp, some will need to be re-sharpened.
* * * Click Heading to see Items * * *
Disston 26" 8 pt. K-5 Keystone Defender Crosscut Saw
Disston D-23  Lightweight 10 pt. Crosscut Saw
Disston D-100 Crosscut Saw
Disston # 7 26" 10 pt. Crosscut Saw
Henry Disston & Sons # D 95 26" 10 pt. Crosscut Saw w/ Distonite Handle
Atkins #50 Crosscut Saw

Sargent & Co Rip Saw
Richardson Crosscut Saw
#24 Wheeler, Madden & Clemson Crosscut Saw w/ June 3 1879 Holden Patent Handle
Goodell Pratt Co. No. 1 Miter Box Hack Saw Patented 1899
Selection of Stanley 42 Saw Sets
* * * Click Heading to see Items * * *
Disston 10" Back Saw
Disston #4 Miter Box Saw


Richardson 6" Open Handle Backsaw / Tenon Saw
Civil War Era Amputation Saw w/ Ebony Handle
Groves & Sons 12" Back Saw
William McNiece 12" Back Saw w/ Split Nuts
Woodrough & McParlin 12" Dovetail / Back Saw
Jackson Cast Steel 14" Back Saw
8" S. J. Lloyd Davies Brass Backed Back Saw


2 Bishop 12" Combination Tenon / Back Saw
Patented January 9th 1906 12" Combination Back Saw
Disston #14 Duplex / Combination Back Saw


12" Wards Back Saw
12" Disston Keystone Dovetail / Back Saw
AND MORE
* * * * We Sell Antiques! * * * *
We want to Help you Sell Your quality Antique Tools
If you have a single antique, or a collection of antiques to sell please contact us at LCM@Patented-Antiques.com giving us your PHONE NUMBER and other contact info and we will get back to you ASAP.

To view many examples of the types of antiques and collectibles we have previously sold and are always interested in helping you sell please visit our Past Sales Archive Pages at our sister website www.AntiqBuyer.com.

Please see our FAQ page, the Appraisal / Selling Page and the Selling Your Collection Pages for further info.
Thanks!!
Larry & Carole